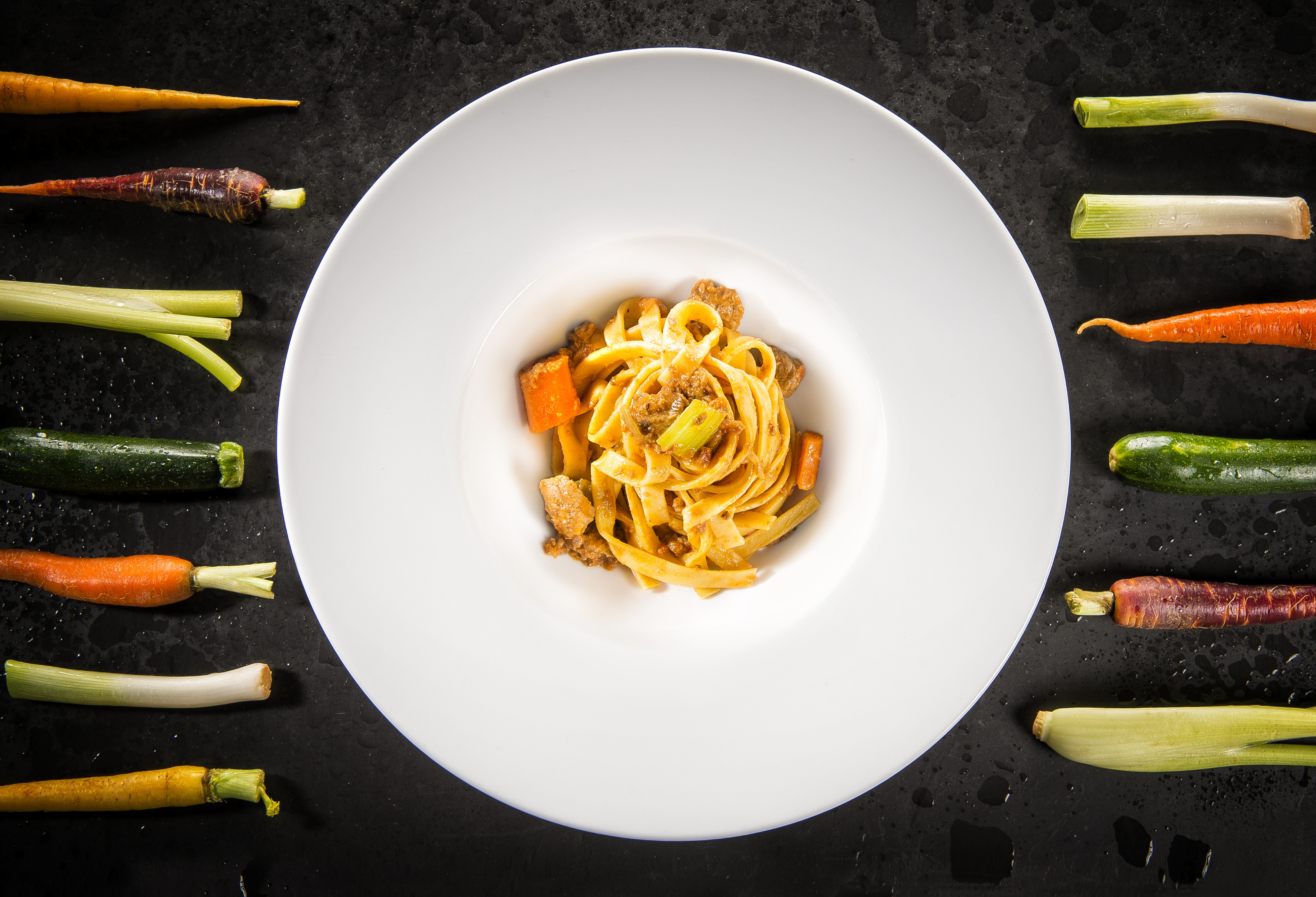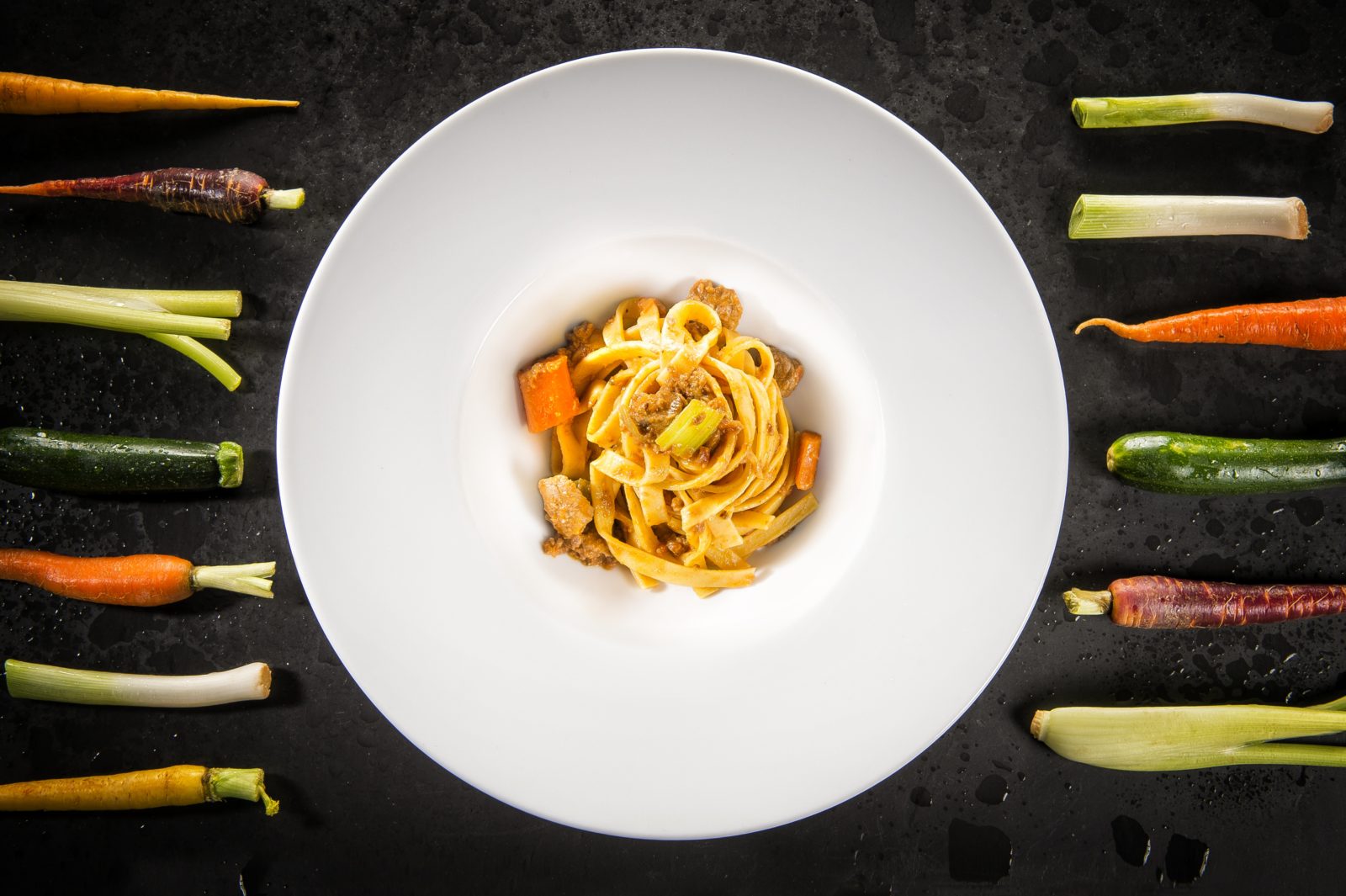 The recipe for the Baron's ragù
16 May, 2019
Tomorrow, 17 May, the menu at the Osteria di Brolio will be substituted with the second 2019 menu. However, in all the menus that will alternate from now until the end of the year, there are always some essential dishes. Our visitors return to Brolio because of these, and they expect to find them here so they can order them and try them once again. One of these, actually the foremost among them all, is our pasta dish, Tagliatelle with the Baron's ragù.
That's why we'd like to share the recipe of this mouthwatering and fragrant ragù with you. Francesco Ricasoli has been preparing it this way for many years and he gave the recipe to the chef at our Osteria restaurant.
Here it is, just as he wrote it down:
Ragù Toscano for tagliatelle or other types of pasta, serves 6, recipe by Francesco Ricasoli
Ingredients :
1 lb. chopped lean veal
1/3 lb. chopped chicken livers
1/3 lb. chopped pork
2 carrots
2 large red onions
6 celery stalks
4 cloves red garlic
2 cups good white wine
3/4 lb. fresh chopped tomatoes
Extra Virgin Olive Oil
Large bunch parsley, fresh oregano and basil
Salt and pepper
Coarsely chop the carrots, celery, onions and garlic and sauté together in a bit of olive oil (preferably Castello di Brolio Olio Extra Vergine DOP del Chianti Classico) in a wide heavy pot until vegetables are tender. Add meat and cook slowly, stirring frequently with a wooden spoon until the meat is cooked and starts to stick to the bottom. Continue stirring until the meat is almost burnt (but not burnt!).
Exactly at this moment, quickly add the white wine, maintain medium flame and cover. After about 10 seconds, reduce the flame to simmer and stir, loosening the meat from the bottom of the pan and wait until wine evaporates (you will not smell it anymore). Then add tomatoes and continue to cook until the sauce reaches a good consistency. Season with salt and pepper.
Choose your favorite pasta (in my opinion, tagliatelle are perfect) and cook al dente. Drain and immediately toss with ragù and serve. You can add grated cheese if you like but it is not necessary.
To complete this dish, you will need about 3-4 hours. It can be kept in the fridge for a few days or can be put in the freezer in portions ready for any emergency. And you know how it goes, in those emergencies, memorable dinners can be had with this ragù accompanied with a great year of Brolio Chianti Classico!
FR
At the Osteria, the chef follows this recipe to the letter, and the dish is available on every menu during the year, as mentioned above. Try preparing it yourself and then come compare it to the original.
We look forward to welcoming you!