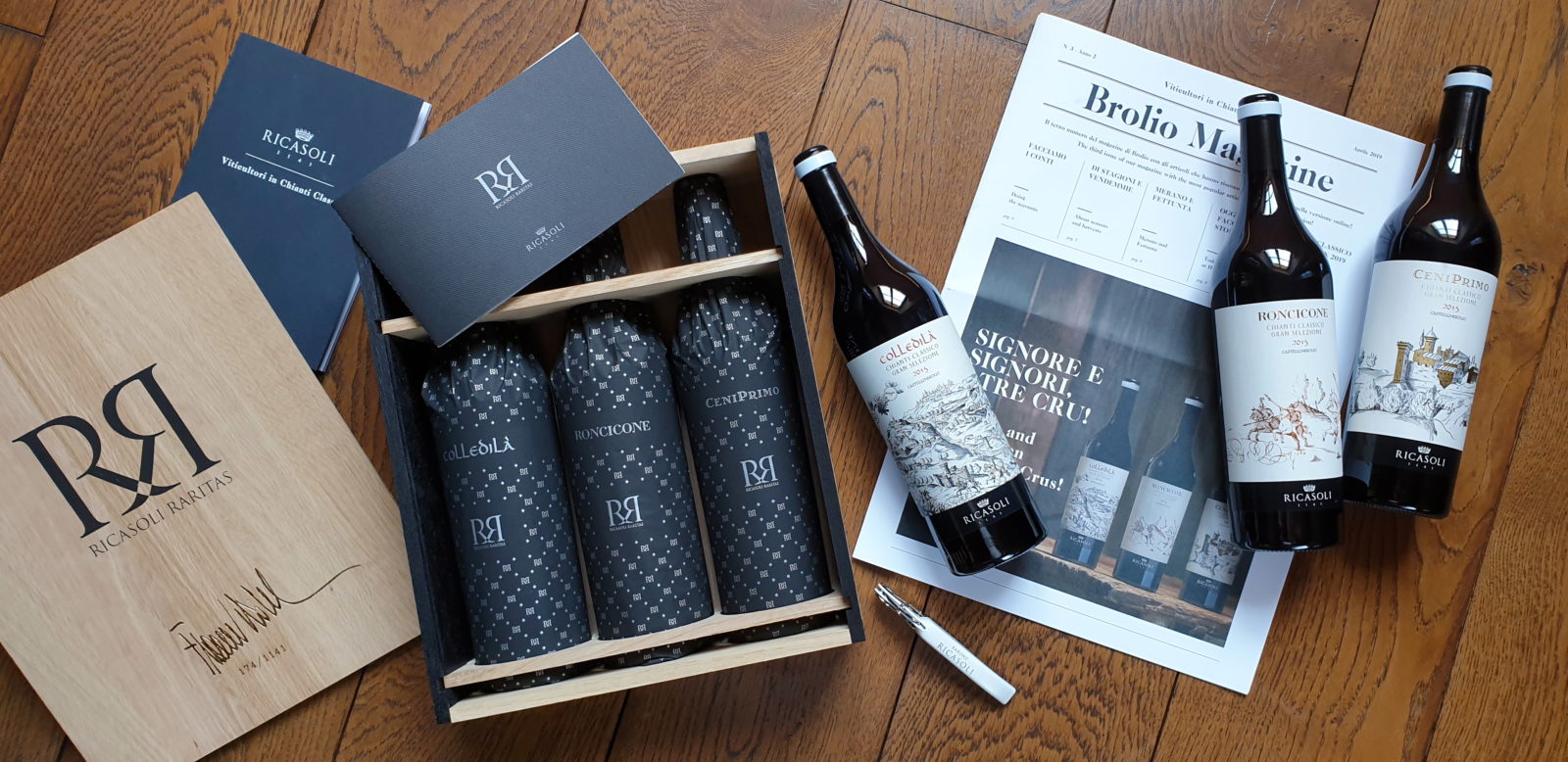 Ladies and Gentlemen, our three Crus!
06 June, 2019
A month has barely gone by since the publication of part two of the history of the Brolio Crus. In that segment, we provided additional information, after having written about the three wines for the first time at the end of March. We chose this leisurely pace because of course things of beauty should be unveiled a bit at a time, piquing curiosity while slowly uncovering something new and fascinating.
But now the moment has come to show you how we are presenting these three magnificent expressions of the Sangiovese at Brolio: the Colledilà, the Roncicone and the CeniPrimo.
They made their first appearance at the Brolio Wine Shop and Osteria restaurant during the month of May. At the same time, they were shipped to some faithful Ricasoli clients around the world. This limited-edition collection is presented in a package engraved with the signature of Francesco Ricasoli, because he planned and sought this project – that has spanned more than a decade – of selecting Sangiovese from the various Brolio soils.
Now these Crus can be admired and purchased, packaged in a keepsake, numbered wooden box. Only 1141 were made, and each box is numbered in sequence from 1 to 1141, as a reminder of when the Ricasoli family arrived to Brolio.
Inside this elegant package you'll find the three Cru Colledilà, Roncicone and CeniPrimo, Chianti Classico Gran Selezione 2015, all packaged in bottles with black capsules and recognizable by their labels, which were planned by Francesco Ricasoli to provide continuity to these three great wines. Each label portrays a part of the genealogical tree of the Ricasoli family to show this continuity, exemplifying that they are three portions of a single, great project.
Not only the wines but also the details of the elegant packaging indicate the great research that has gone into these wines. The reason for all this attention lies in our determination to position the Chianti Classico wines as precious and unique. They are emblems of a great past (remember that the Chianti Classico was invented right here at Brolio) but also highlight how "traditions should be dynamic". This last affirmation is often repeated by Baron Ricasoli and there is nothing truer. In fact, the company is continually finding new challenges thanks to its strong momentum and ideas.
Here are some images of the Ricasoli Raritas packages, which contain the trilogy of the Brolio Sangiovese: three vineyards, three Crus, three rare and exquisite wines.