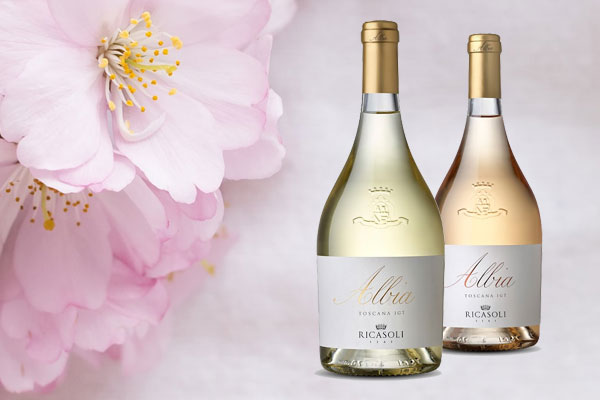 Summer at the Osteria di Brolio
29 July, 2022
In the warm months of the year, the Osteria di Brolio is a place of certainty, a cool stop amidst the green forest at the foot of the castle walls, as well as a place to experiment with new flavors and combinations thanks to the creative suggestions of Chef Franco Sangiacomo.  A few days ago, he unveiled his proposed menu for the summer, with plenty of seasonal vegetables, Mediterranean flavors and fish dishes. This time, he suggested two combinations with the freshest wines of the Ricasoli range: Albia bianco and Albia rosé. "Perfect for summer aperitifs, Albia bianco and Albia rosé are also superb with great cuisine" said the chef.
When it comes to Albia Rosé, Sangiovese and Merlot, with their delicately fruity and floral aromas and a pleasantly mineral flavor, spaghetti with tomato sauce roasts, mullet and chilli pepper are great combinations. All the ingredients in this dish are locally sourced: from the spaghetti produced by the artisan pasta factory Martelli in Tuscany to the mullet caught in the seas of the archipelago, to the tomatoes, which come from Brolio's organic garden and are roasted and then sieved for the sauce.
For second courses, the chef suggests sea bass with black truffle, rabbit liver and potatoes, a reinterpretation of the classic fillet "alla Rossini", a French culinary tradition which – so the legend goes— was invented in the nineteenth century in honor of Italian composer and gourmand Gioacchino. Sea bass fillet – from select farms on the Livorno coast – roasted and enhanced by rabbit liver pate, black summer truffle and a secret sauce, pairs perfectly with Albia bianco, a blend of white Malvasia, Sauvignon Blanc and Chardonnay grapes. The floral aromas of elderberry, white peach and grapefruit, the beautiful acid touch, the fresh and savory flavor and a very good persistence, blend perfectly with the specific flavors of this dish.
An interesting fact: the name Albia was inspired by the sound of the river "Arbia", which flows between the Brolio vineyards.