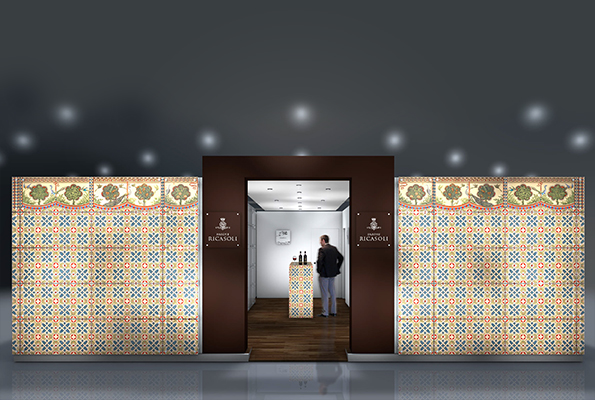 Feeling at home even at Vinitaly Fair
06 April, 2017
Here comes Vinitaly 2017, in only two days from now. We know it is quite intense, but always an exciting event.
Especially this year I am very curious to see our new stand, which, like you, I have only seen in the rendering, sent to me via e-mail by those who have studied a very long time to make it real.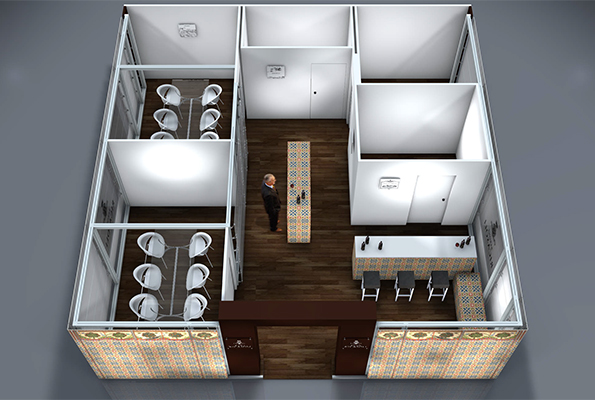 I think the little figure in the first slide is actually me; the last one certainly is not! Maybe the so very patient architect will prove me wrong, but I like the idea that he has chosen to put me in the picture, waiting to welcome you. Unfortunately, this will not always be possible, since our daily meetings will be in those private rooms you see on the left hand side. Well, meetings aside, I will love to look at the new stand from all angles and find a piece of Brolio Castle inside Vinitaly Fair in Verona.
This is true because all of the panels of the stand show the same decoration you can find while admiring the hand painted walls inside the tower of Brolio Castle. In particular, they refer to the decorations of one room that was specifically painted and furnished for the king's arrival at Brolio in 1863.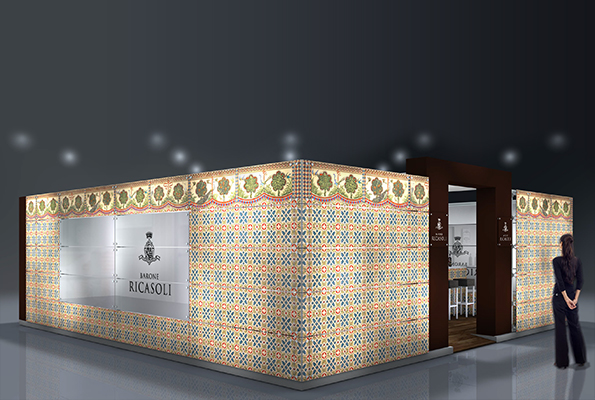 For those who have visited the Castle, you can easily recognize what I am describing here: the room is part of the museum I have created inside the tower of the Castle some years ago. For those of you who do not know about this and would like to verify my statement: part of the castle is open for visitors, waiting for you at the top of the hill in the heart of the Brolio estate.
I was born in the Castle (not in the room described above!) and it makes me smile to think that in this edition of Vinitaly, I will be surrounded by the same colors I have been looking at since I was a child. Come and visit me, and glass of Albia Rosé will certainly be great to accompany our conversation.
Happy to welcome you, Pad 9 C12
Francesco Ricasoli