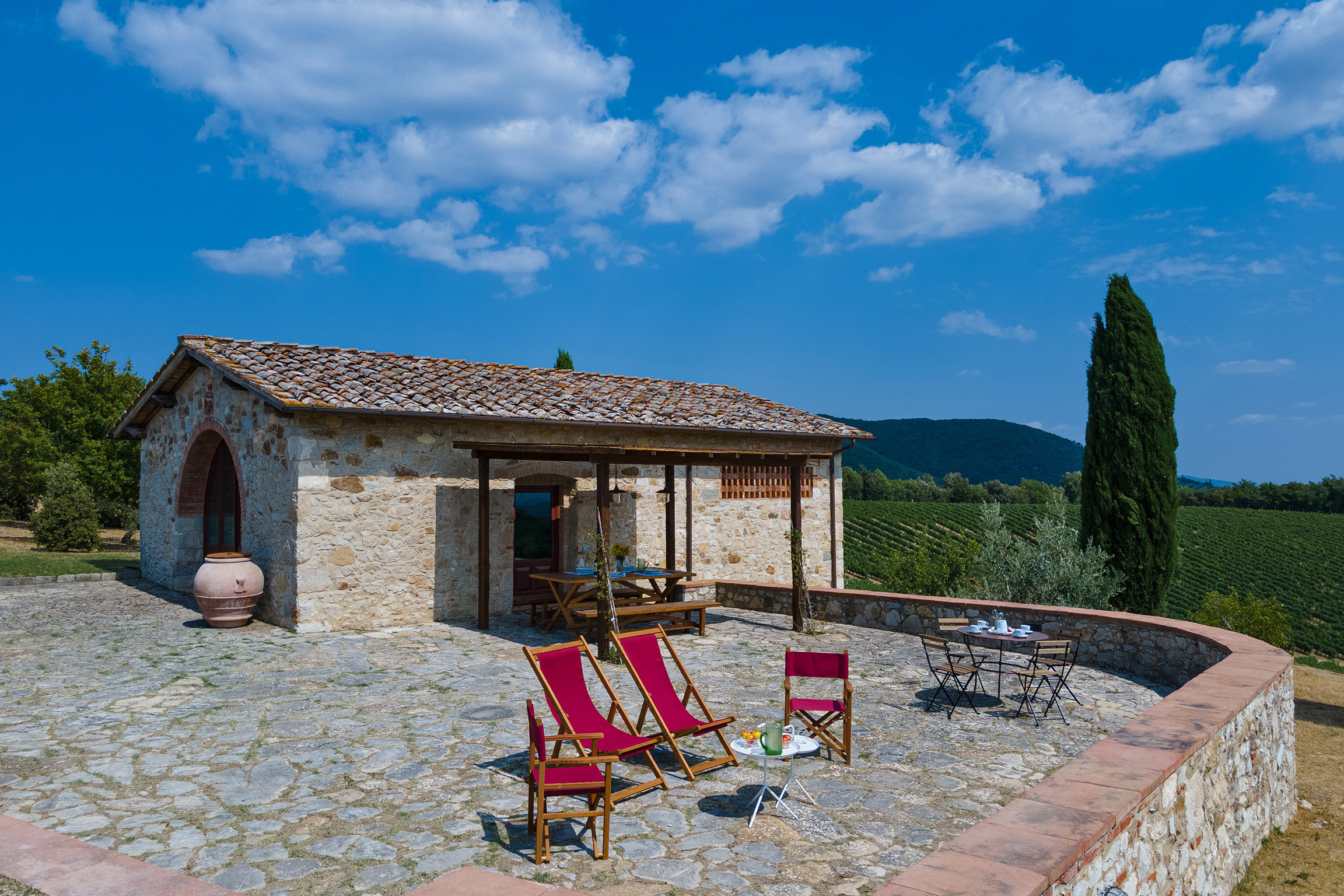 The thrill of sleeping in the vineyards
13 May, 2022
Immersed in the vineyards, not far from Castello di Brolio [Brolio Castle], Capanna di Citerna is an elegant cottage that appears to be designed with those who want a rejuvenating break in nature in mind. The house sits in an enchanted location, at the heart of Colledilà vineyard, the birthplace of its namesake, the cru of Sangiovese, one of the highlights of the Ricasoli range. Here, one's gaze is lost among the vineyards and they have privileged views of the entire Chianti Classico, including what is perhaps the best sight of Castello di Brolio.
Capanna di Citerna is comprised of a bright open space with a kitchen that can accommodate up to four people.
The renovation project of what was once one of the Brolio sharecroppers' nineteenth-century rural residences was overseen by the architect Giovanni Pacciani. Mr. Pacciani was also responsible for the renovation of Agribar and Agriroom. In both projects he focused on maintaining the original structure by preserving the exquisite Chianti style (exposed beams, terracotta floors, Tuscan stone) while ensuring the comfort of the guests. Among the aesthetic options is also an elegant palette of colors for the accessories that increasingly define the Ricasoli interiors style.
Away from the lights of neighboring towns, this is the ideal place to enjoy romantic sunsets and starry skies, while enjoying a glass of wine on the large outdoor patio. But it is also the perfect starting point for exciting experiences, such as a Wine Tour with a visit to Castello di Brolio and its Museum. Or, for the more athletic, a trek through the vineyards or even e-bike or mountain bike rides on the white roads of Eroica, the world-famous cycling race. And you cannot miss a gourmand lunch or dinner at Osteria di Brolio!