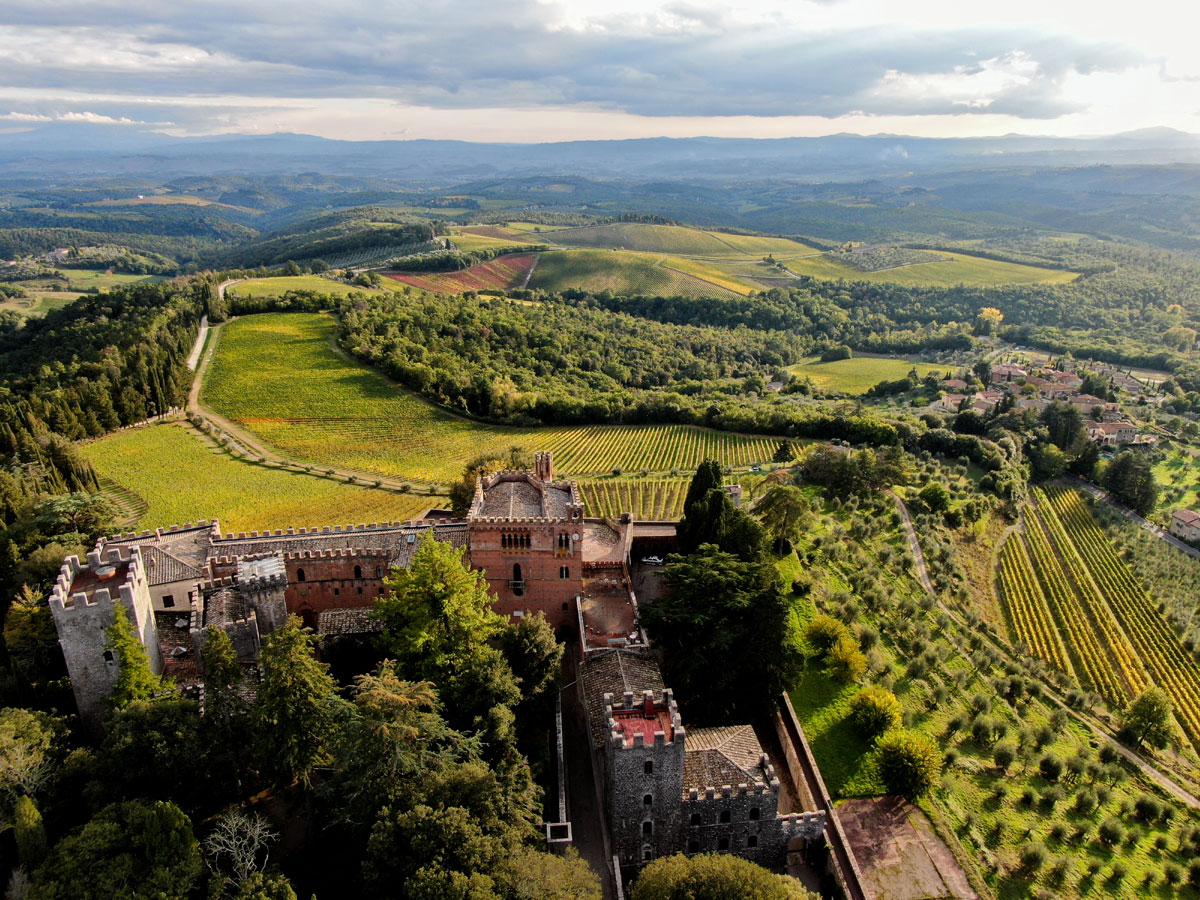 The tourist season returns in Brolio
18 March, 2022
Today, March 18, is an important date in Brolio: the start of "our" spring, which arrives a few days before that of the rest of the world. Thus begins the tourist season, with its rich offerings of tasting tours, the opportunity to stay among the vineyards at the romantic holiday farm Capanna di Citerna or the charming Villa Agresto, or to stay overnight in the AgriRooms, the ideal arrangement for motorcyclists, cyclists or other sporty travelers, and finally, to taste the delightful dishes of Chef Franco Sangiacomo at the Osteria di Brolio.
To gather some first-hand accounts we've interviewed three of our guides who oversee tours and ticket sales at the Castello: Susanne and Sabina, who have both lived in Brolio for 13 years, and Camelia, for 17 years. They tell us that all the guests are particularly enamored, even astounded at times, by the way that the family has managed to maintain the castle and the business for centuries, and by the great love represented in this place, visible in the care put into every last detail.
Outstanding moments are plenty on a tour of Brolio. Starting with a visit to the Castello Museum. Here, many discover that the story contained here is not only that of a family and a wine-making business, but of an entire nation. Not everyone immediately connects Bettino Ricasoli to the Unification of Italy, and especially foreigners often have no idea how and when the nation of Italy was formed. Most fascinating of all at the Museum are the first room, with its collection of antique arms, and the last, dedicated to scientific research about the "Barone di Ferro". Here you can find curious artifacts like marine fossils collected in the vineyards, or grapevine leaves damaged by phylloxera that have been preserved in alcohol. These introduce what is certainly one of the most beloved topics of all: wine and viticulture.
During the visit to the vineyard, guests are charmed by the great effort put into research and sustainability, but also the care given to every single plant, like in a garden. The cantina has an indisputable charm as well, found most of all in the stage of vinification with its intense aromas. The tasting is without a doubt the climax of the tours – the moment in which visitors finally get to know the wines of Ricasoli, encountering in their glasses the extraordinary varietal known as the Sangiovese di Brolio in its diverse manifestations. Once, a guest concluded his visit by declaring "I had to visit this place to learn how to appreciate wine!"
To be certain, one who comes to Brolio enjoys a memorable experience. A humorous anecdote in this regard concerns the visit two years ago by a direct descendent of the famous Ludwig II of Bavaria. During his visit to the museum, the prince enthusiastically commented on the collection of antique arms, confirming that his family, too, had once had a lavish armory. Having arrived at the terrace of the Castello, he admired the breathtaking panorama and exclaimed, "Oh no – unfortunately, this we do not have!"