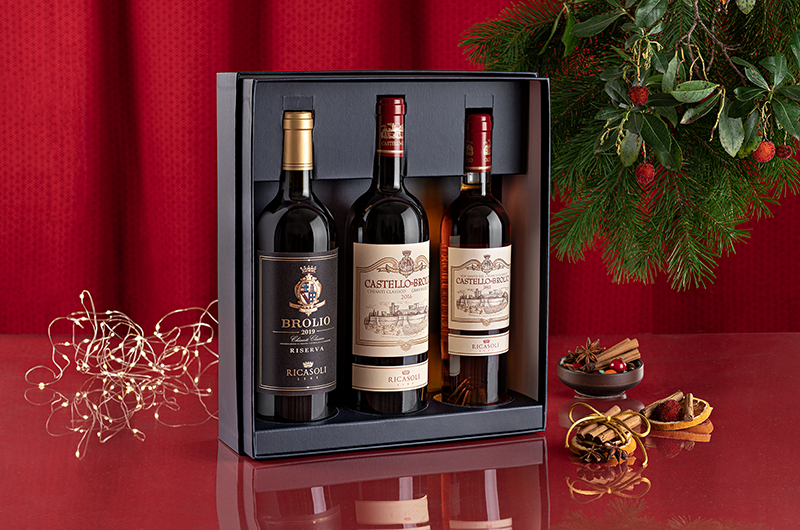 Wine for the Holidays
16 December, 2022
The Christmas holidays have once again become a privileged time for people to get together, offering plenty of opportunities for socialization. From the first Sunday of Advent and as Christmas and New Year's festivities approach, the opportunities to meet friends, colleagues, and family are plentiful, with wine being a protagonist of choice. Here are some tips on how to choose the right wine for every occasion.
Let's start with the wines to drink during the meal. We recently presented the Christmas and New Year's Eve menus created by Franco Sangiacomo, Executive Chef at Osteria di Brolio, with two recipes to be paired with Chianti Classico Brolio Riserva and the new Casalferro. Both menus call for our white Torricella, the surprising Brolio Chardonnay chosen by the Osteria for two very different starter dishes: a savory hunchback cardoon pie with pecorino sauce and black truffles for Christmas, and cotechino, lentils, and pink prawns for New Year's Eve. Its versatility makes it a staple of any toast during the holidays.
Another important category during the holidays are the wines to be gifted. Our "discovery" box containing different versions of the Chianti Classico – Brolio, vintage, Riserva, and Castello di Brolio Gran Selezione – will surely make an interesting gift. Further, the Gran Selezione is perfect in a gift box and can be enjoyed immediately, with its velvety tannins, even in its Magnum version.
Christmas is also a great time for enthusiasts and collectors to buy wine to store in the cellar and continue its maturation, while acquiring even more aromas and depth. The three Brolio Crus Colledilà, Roncicone, and CeniPrimo in the award-winning 2019 vintage, or the box of three or six Castello di Brolio vintages are therefore perfect to be left to rest until a special tasting celebration.