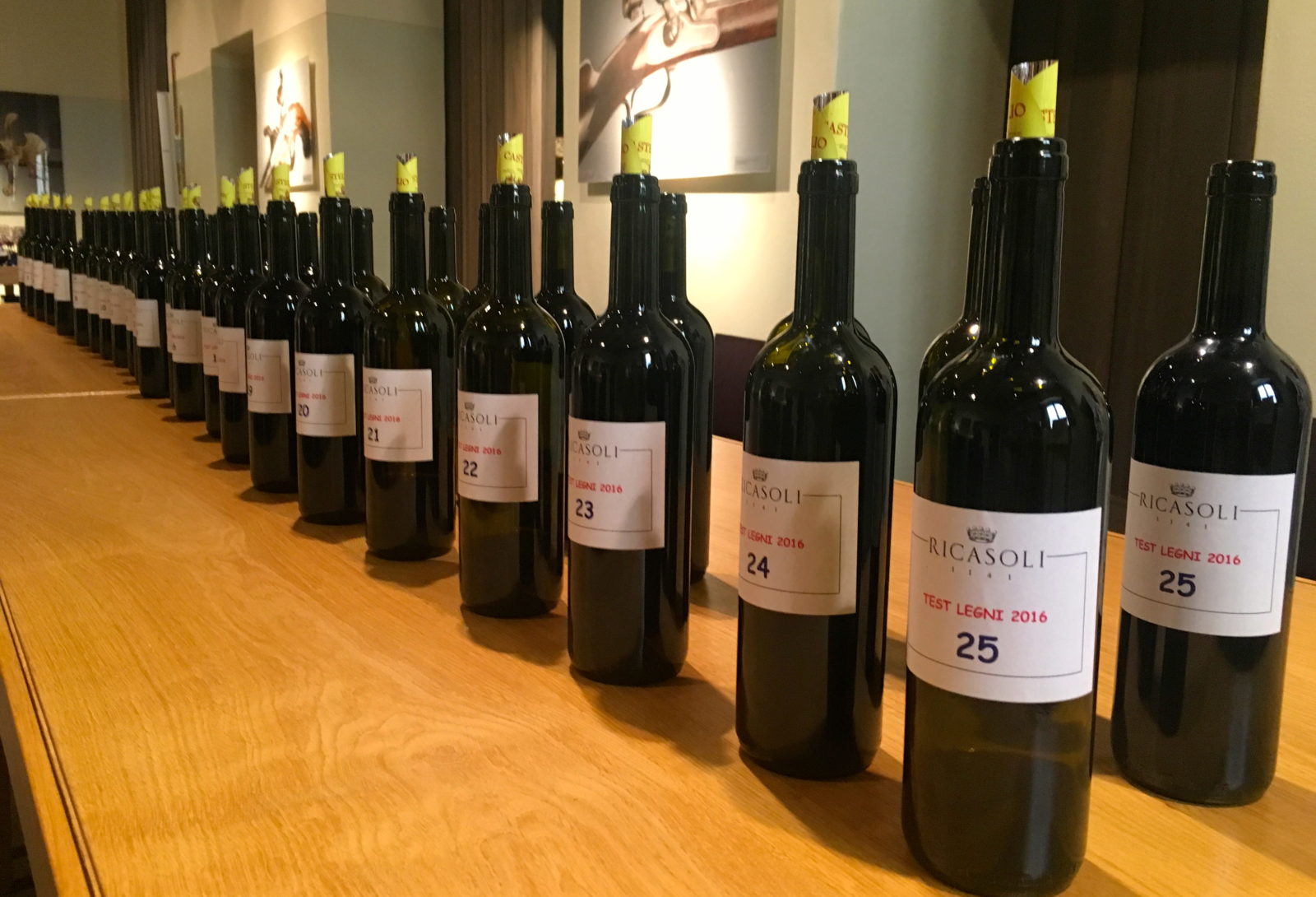 Wood testing 2016
17 May, 2018
The annual Wood Testing was held on Monday May 14th at Brolio.
This unusual tasting event allows the identification of the types of wood and the most appropriate toasting for our wines. And unlike the testing last year, this time the 25 samples all came from a single vineyard, which meant that it was truly the same, identical wine, aged in different wood.
This fact is essential to understanding how important discernment is in the choice of the cooperage, or barrel making, in the quality of the wood, in the toasting, in the size and capacities of the wooden containers themselves, and so on. The same wine was blind-tasted by the participants, who were all experts in the world of cooperage, but also agronomists and wine cellar operators who are near and dear to us.
The wine being tasted, pure Sangiovese from 2016, comes from the Santa Lucia vineyard, located 330 meters above sea level, in an area that is geologically and geomorphologically very heterogeneous. The vineyard soils (clayey, non-stony bottom, moderately calcareous and rich in organic matter but poor in potassium) are Monte Morelli Pliocene marine deposits with some Plio-Pleistocene fluvial-lacustrine deposits.
The Santa Lucia Sangiovese was harvested and vinified the first week of October 2016. After fermentation and devatting, the wine was transferred into wooden containers in January 2017. On 20 June 2017, the wine was racked for the first time and then returned back onto the same wood. Eight months later, it was racked a second time and again returned to the same wooden containers.
The 25 tasting samples were divided in the following way. Twenty-two samples were aged in 500-liter oak barrels, 2 samples in 700-liter barrels and one sample was obtained from a blend of all the other wines aged in the above-mentioned barrels.
The experts invited to participate blind-tasted the samples in total freedom and at the pace each preferred, noting down their impressions on the form each had been given at arrival. They then turned in these forms, which will be evaluated and compared by our technical laboratory.
This was the 10th year we have held this test, and once again it was a tasting for palates and taste buds trained to discern the most subtle aromas.
We're waiting for the results, but in the meantime we continue tasting all of the new vintages that are arriving in these days at our Wine Shop.