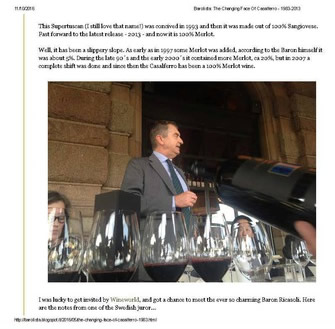 THE CHANGING FACE OF CASALFERRO BY BAROLISTA
16 May, 2016
" This Supertuscan (I still love that name!) was concived in 1993 and then it was made out of 100% Sangiovese. Fast forward to the latest release 2013 and now it is 100% Merlot.
Well, it has been a slippery slope. As early as in 1997 some Merlot was added, according to the Baron himself it was about 5%. During the late 90´s and the early 2000´s it contained more Merlot, ca 20%, but in 2007 a complete shift was done and since then the Casalferro has been a 100% Merlot wine."
(extract from Joakim's blog, SE. Download pdf to read more).